News
Social Commerce: Where authentic content meets commerce
2021-06-07 15:59:52
< Back
According to the Amway Global Entrepreneurship Report (AGER) published in 2018, 92% of Vietnamese citizens surveyed consider starting a business as a desirable career opportunity. It cannot be more accurate when anyone of us will have at least a Facebook friend who is a social seller. It is fascinating to see how easy it is to start selling on any kind of social platforms, as long as they have a reliable supply of selling goods. The question is – where do brands stand in this new wave of e-Commerce so-called Social Commerce? Before diving into further details, let's review some statistics to have a broader view. 
e-Commerce in SEA is expected to hit $153B USD in 2025 across 6 markets (Indonesia, Malaysia, Philippines, Singapore, Thailand,Vietnam) comprising 50% of total Internet economy. Thanks to high Internet and mobile Internet penetration, the digital-savvy Southeast Asians are certainly quick to adopt new forms of e-Commerce; amongst which Social Commerce is growing steadily fast.
"SOCIAL COMMERCE SEES GROWTH SPURT IN SOUTHEAST ASIA" – WARC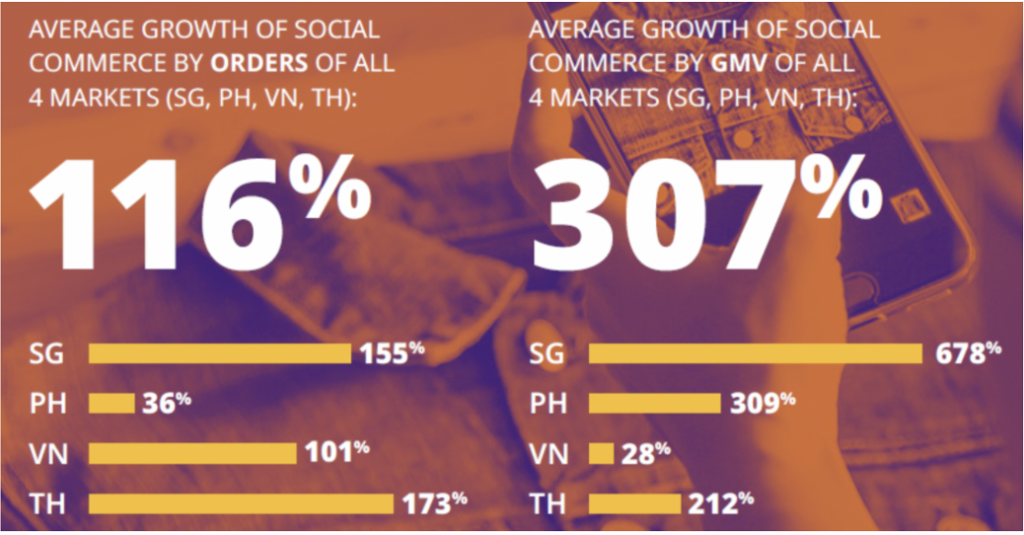 "SOCIAL COMMERCE 2021: SOCIAL MEDIA AND ECOMMERCE CONVERGENCE TRENDS BRINGS GROWTH OPPORTUNITY FOR BRANDS"– INSIDER
Once seen as a platform for brands to build relationship and gain trust from consumer, Social media is now thriving and changing the retail game, as the integration of technology such as livestreaming, chatbot, and AI to name a few combined with influencer's power to drive virality and the authenticity of native content facilitate the best shopping experience.
"TOP SOCIAL COMMERCE TRENDS FOR 2021 TO KEEP AN EYE ON"– Influencer Marketing Hub
By now advertisers in Vietnam have been familiar with terms like Facebook Shops, Facebook Marketplace, etc.; these are some of available features to help brands kick start their experiment and journey with Social commerce. The great examples set by China have kept us optimistic about the future of Social commerce; and when TikTok has decided to enter the game by piloting their in-app shopping solution in selected markets, we all know the heat is real!
"TIKTOK BEGINS TESTING IN-APP SHOPPING TO CHALLENGE FACEBOOK"– Bloomberg
If you are a Marketer and are convinced Social commerce is the real deal for your brands, let's not panic. Here is how we see you can ride on the wave of this new notion.
Make your contents shoppable
Create Social-first content that is bridging the gap between inspiration and conversion by making sure every post has a clear call to action and includes the product tag that leads consumers to a product selling site.
Have the right Media strategy on Social
Activate paid Media on Social channels with tactics tailored to drive growth and ROI.
Turn every conversation into commerce opportunity
Fuel conversations with your real customers by giving them the sense of intimacy and privacy using chatbot.
Leverage the authenticity of Influencers
Use Influencers as content creators to produce Influencer Generated Content (IGC) with an authentic voice in various formats – Influencer post, Live Streaming, etc, – to drive credibility and then turn into conversion for your brands.
Define a Social strategy with commerce mindset to drive growth
Maximise the use of data and unexplored insights to unveil the right approach for your Social commerce strategy. At the same time, build a Social CRM capability which allows your brands to log in any direct contact with customers to improve their experience and drive loyalty.
If this bulletin makes you really excited about visioning the future of your business where Social Commerce invents new opportunities, why don't you start by talking to one of our agency's representatives for your account?
This article is written by The Knowledge Hub Team, ClickMedia